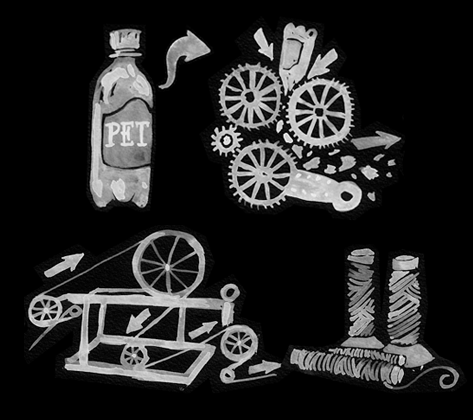 Design with purpose, craftmanship and elegance
Every Triton rug combines sustainable and innovative materials with centuries-old craftsmanship. All production of the Triton rugs takes place in Sweden where we work according to the strict environmental and employment laws of Sweden and EU. Here we create our woven and hand-tufted rugs using the finest recycled and/or recyclable yarns from Italy, thus creating a 100 % EU made and sustainable product. It also enables us to have the highest quality control and minimize transportation.
The tradition of creating rugs is several thousand years old, born from the need of adding comfort and warmth as well as beauty to the home. The basic idea is simple, but in the marriage between the yarn, the color and the technique an endless source of creativity is born.
Combining the traditional rug techniques with innovative fibres allows Triron to add comfort and beauty to areas where it earlier has been almost impossible to do so. Our customers can use the rugs for a variety of different living spaces, from indoor wet areas to yacht decks, outdoor pools, spas and patios where it adds not only aesthetics but also adding safety by reducing the slipping hazard for both private homes as well as for public areas.
Imagine that you can turn the old waste into something brand new and beautiful. That is exactly our idea behind Triton. We call this way of thinking "design with purpose". Our rugs are made from recycled and/or recyclable PET that can be re-used over and over again – in an everlasting eco-friendly cycle.
The philosophy is called Cradle to Cradle (C2C). In the cradle to cradle model, all materials used in industrial or commercial processes – such as fibres and dyes – fall into one of two categories: technical or biological nutrients. Technical nutrients are strictly limited to non-toxic, non-harmful synthetic materials that have no negative effects on the natural environment; they can be used in continuous cycles as the same product without losing their integrity or quality. In this manner these materials can be used over and over again instead of being down-cycled into lesser products, ultimately becoming waste. Products can be C2C labelled, but the cost of doing this amounts to thousands of Euros per product and this is something we as a small company yet not are capable of.
---
---